Leave it to a history major and a former costume designer to successfully combine two things little girls love: story time and pretty clothes. That's what happened when sisters Heather Haas and Kit Kuriakose teamed up to launch Fiveloaves Twofish, a San Diego-based brand that's making waves with sophisticated yet whimsical looks for girls and […]
It Figures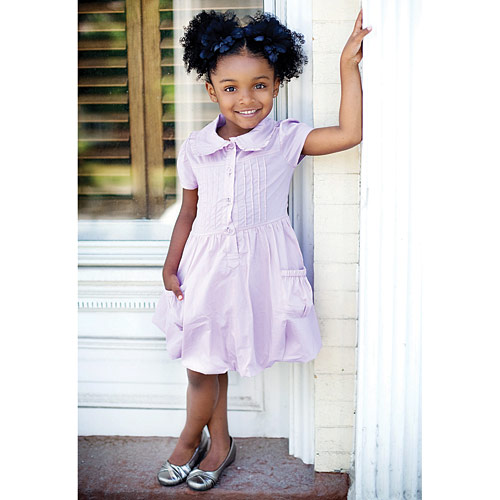 Once Upon a Line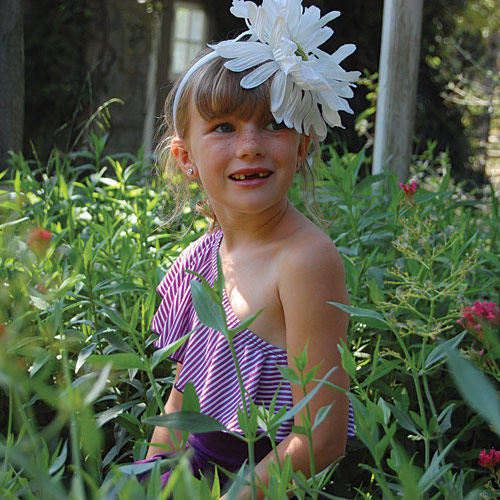 Leave it to a history major and a former costume designer to successfully combine two things little girls love: story time and pretty clothes. That's what happened when sisters Heather Haas and Kit Kuriakose teamed up to launch Fiveloaves Twofish, a San Diego-based brand that's making waves with sophisticated yet whimsical looks for girls and teens.
"I write a story to go with the line every season," said Haas, who narrates the label's runway shows with these imaginative tales. "I always tell the story through the eyes of a little girl," she explained, noting that the Spring '11 collection invites youngsters to take a voyage to Polynesia with bold floral prints, gauzy hula skirts and white summer shift dresses evoking a tropical paradise. "By the end of her trip, the islands have embraced her, and she's wearing a ruffled off-the-shoulder dress."
This vivid attention to detail is a perfect summary of the duo's design aesthetic. "We call our studio an 'old world design house,' where European tradition meets California cool," Haas said. The pair sticks to clothes for girls ages 6 through junior sizes, ensuring that their mature silhouettes are perfectly tailored to fit their bodies. The label's crisp cotton tops and sleek jersey dresses may be refined, but bold colors and fun patterns—such as yellow polka dots and giant red poppies—keep the clothes fresh for the tween to teen set. Some of the brand's bestsellers are its bold, bright accessories, like rainbow-hued headbands with oversized daisies and chunky, beaded necklaces. "We love big details on the little body," Haas said. "It's such an exaggeration—it's so cute and so unexpected."
Despite the European emphasis, the sisters are serious about using only American-made materials and making efforts to reduce their carbon footprint. "We really avoid shipping, if we can," Haas explained. Most of the label's fabric comes from California and all of the sewing is done by hand in the company's studio.
Haas said the idea for the brand began brewing when she started sewing clothes for her daughter, Abby. "It got to the point where people were begging me to [let them] buy her clothing." Today, Abby serves as the pair's resident authority on children's trends. "A lot of our designs are actually my daughter's ideas," Haas said. The concept for the label's fall line is still top secret, but look for another narrative weaving history and fashion into a fascinating mix.
Fiveloaves Twofish clothing wholesales for $16 to $60; accessories are $3 to $15. The sisters also design looks for mom. Call (619) 523-1024 or visit www.fiveloavestwofishclothing.com. —Audrey Goodson
It Figures
"What took you so long?" That was the question on everyone's lips when Laurie Udy finally decided to launch her girls' apparel line, Secretly Spoiled. Though the move may seem like quite a departure from her days as an accountant, her husband and friends knew she'd had fashion aspirations for years. "I've always had an entrepreneurial spirit, and I love fashion," the designer said. "Pretty much everyone who knew me could see it."
Apart from the obvious business benefits of having a head for numbers, Udy also gained invaluable contacts while auditing publicly traded companies, including the factories she sources from today. While pregnant with her daughter, she rounded up a group of designers to work for her, and Secretly Spoiled was born. "My collection has a classy, upscale look but not the upscale prices," Udy said. "We offer the same quality but at better prices." The brand name, she explained, came from her prediction that despite her best intentions, she'd probably end up overindulging her daughter, now 2.
Initially the brand, which addresses sizes 2T to 14, focused on basics. But for Fall '10, Udy expanded with fashion looks. According to ParBella and Friends, a showroom that reps the line, the reception has been encouraging. Udy is even more excited about the Spring '11 line, which is comprised of three groupings. The first looks evoke beach getaways with a plethora of stripes and solids in a summery palette of navy, hot pink and yellow. Bodies in this Nautica group include flowy dresses with crisscross straps and a bold flower embellishment, sailor capris and pleated jumpers, which have proven an early favorite. Udy describes the Sweet & Sassy group as shabby chic, with statement-making black or hot pink in solids, stripes and paisley prints. Tulle skirts, striped tanks with heart appliqués, one-shoulder dresses, ruffled zip-up jackets and coordinating skirts all mix and match or pair back to basic pieces. Finally, Summer Fun offers casual looks in cool hues. Pale pink, purple and khaki Bermuda shorts, safari jumpers, tiered halter dresses and faded jeans all invite kids to play.
Secretly Spoiled is currently in more than 100 doors in the United States, Europe and New Zealand. The international appeal of the line is fitting, since Udy draws inspiration from exploration. "I just love other cultures and what they have to offer," she said. "I see the different way people dress and always want to change it up."
Wholesale prices for the Kaysville, Utah-based line run from $6.25 to $8.25 for basics to $10 to $28 for fashion tops, dresses and bottoms. Call (801) 425-0886 or visit www.secretlyspoiled.com. —Caletha Crawford