Tohawi doubles its value with two-in-one designs.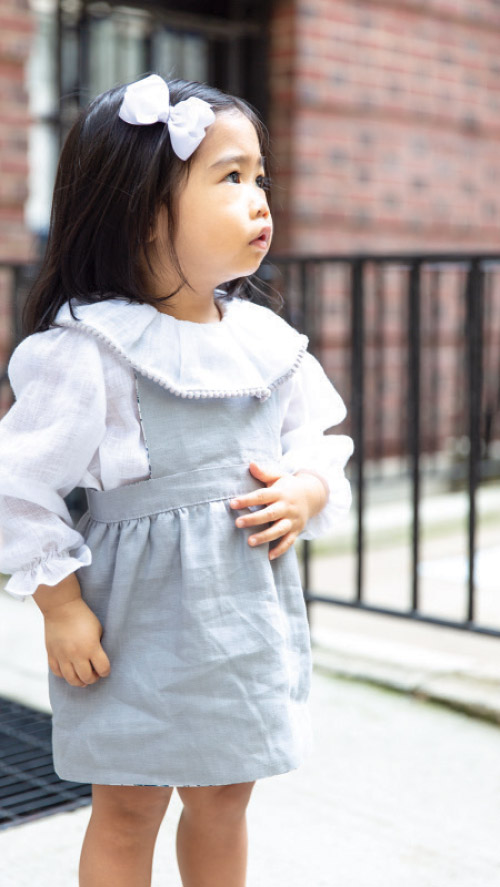 A busy mother of three (with another on the way), Miryam Ackerson started sewing clothing for her children by following YouTube tutorials in the evenings. But it wasn't until the self-taught designer noticed her fixation on making the inside of every design as beautiful as the exterior that the concept for Tohawi, was born.
"I've always believed every inch of a garment should be a work of art," Ackerson says. "That's why I decided to launch a collection of reversible kids' clothing."
Available in sizes newborn to 6, Ackerson plans on expanding the line to size 8 following several requests during the brand's debut this year. "Turns out there really aren't many reversible options on the market, so we're receiving a lot of interest," she says. "Even having a bit of a higher price point hasn't been an issue because customers see the increased value of having two dresses in one."
The New York-based designer reports its Liberty of London-printed dresses as the most popular of its Spring '20 collection. "Buyers not only love the reversibility, but they have also commented on the easy-to-wear construction that uses snaps instead of buttons," Ackerson says. "I've always believed kids should have the option of dressing themselves for the sake of building confidence."
Ackerson also believes in dressing siblings in coordinating styles to promote unity. "Kids can run around at a party and be able to spot their brothers and sisters easily, which creates an instant feeling of 'belonging,'" she explains. Coming from a large family in Barcelona where her mother would often dress her kids in matching outfits, Ackerson takes pride in passing this practice down to her customers. "It's an old Spanish tradition, which I'm happy to see has become popular in the States," she says, adding that most of her inspiration comes from the traditional clothing of her childhood.
Tohawi's wholesome design ethos is further reflected in its fair-trade manufacturing practices and sourcing organic materials to protect sensitive skin. "Our U.S.-made quality has certainly been a draw with retailers," Ackerson says. "And while I'm sure we will make some adjustments to production as we grow, everything we produce will always be done responsibly. There's no reversing that!"