Toy Box Predictions
Experts weigh in on the state of the toy industry and what will be hot this year.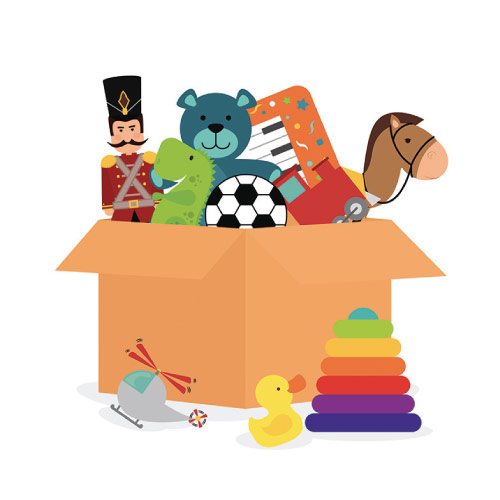 The new year  means another 365 chances for retailers to stock their shelves with the latest and greatest merchandise to draw in toy buyers. As the "retail apocalypse" of 2017 bleeds into 2018, children's boutiques and toy manufacturers are still feeling the affects of online competition. Do the math: Toys R Us filed for Chapter 11 and recently shut 182 doors while Amazon's toy sales grew 12 percent last year. During Black Friday, Walmart had a 66 percent availability in the toy category, while Amazon had a resounding 92 percent, according to a report from One Click Retail.
The outlook may seem bleak for brick-and-mortar retailers, but insiders in the toy industry claim there's no need to run for the exits. The toy business remains viable. "There's this public perception that we're in trouble, and we're not," says Richard Gottlieb, CEO of Global Toy Experts. "I think the public thinks kids aren't playing with toys as much because of screens, and that's just not the case." In fact, not including the video game sector, toy sales have been on the rise because children don't see a line between what's real and what's virtual. "They love their play in any format it comes in," Gottlieb says.
This simplicity in the joy of play makes toy trends easier to predict, as the industry cycles through bestsellers and integrates new technologies. With the exception of industry juggernauts (like Lego which has reigned as the most popular toy for 13 years running), trending products seem to change for a child every five years or so. "Each kids generation is about five years," Gottlieb says. "Kids will like a certain type of toy for ages 3 to 8 and then you're pushing through another group." And with each new group, the latest technologies come into play, says Jackie Breyer, editor-in-chief of Toy Insider. "You're seeing more technology incorporated into toys because it follows the consumer electronic industry," she says. But, she adds, classic toys like board games, fashion dolls and baby dolls remain solid bets in the category.
This year, experts predict a mixture of classic and new age toys will be bestsellers. Educational and STEM toys are also expected to remain popular. However, instead of just trying to sell a toy full of high-tech gadgets, manufacturers are leaving a lot of building to kids, according to Rachel Urso, founder and publicist of Celebrity Baby Trends PR. "There are kits that allow children to build their own drone versus just buying one," she says. "The child works on their own, uses their mind and follows directions." Coding is also becoming more accessible for computer-inclined children as an alternative to playing violent video games. Sensory and STEM development toys are also proven effective by parents of the increasing number of children on the Autism Spectrum or with ADHD, Urso adds. With parents and educators learning more about these disorders and their treatments, they can better engage children in class. Afflicted or or not, toys like Kinetic Sand and Mad Mattr can be squeezed and molded for kinesthetic awareness. "These aren't just old-school '80s sensory toys," Urso says. "They have bright colors built-in and kids love to play with them."    
In response to concerns of screen fatigue and addiction, board games and family game play are expected to gain momentum. Board game sales grew 18 percent in 2016 and double-digit growth was estimated for last year, according to Adrienne Appell, director of strategic communications for The Toy Association. Many of these games have been around for decades, which is a huge draw for Millennial parents. "That generation has grown up with technology as well as classic games," Appell says. "Millennials are drawn to toys and brands from their childhood, like Rubix Cube, Milton Bradley and Hasbro." That said, these parents grew up in the social media age—something that Appell says presents another layer to game play as laugh-out-loud and gross-out games are posted online. Call it mixed media play. "It's posted online, but while you're playing it, you're still unplugged," she says.   
Toys involving fantasy creatures and superheroes looks to be another strong category for 2018. Unicorns, dragons, dinosaurs, exotic animals—anything that captures a child's imagination—are expected to be popular sellers. For example, 5 Little Monkeys Mattresses is releasing a sleep system that comes with a plush monkey in a box. "Kids are going bananas over monkeys," Urso says. Continuing the cuddly theme, Paw Patrol remains the biggest kids' license of the year, and Cozyphones headphones took advantage with a new line featuring the characters. With the movie release of Avengers, Infinity War, Black Panther, Ant-Man and the Wasp from Marvel Studios and Aquaman from DC Comics, superheroes are trending in the toy category, but Gottlieb warns not to rely too heavily on those characters. "Kids are presented with 60 to 70 new characters a year," he says. "Where does a child—and therefore a retailer—choose to put their time and focus?"
Another spillover from 2017, collectible mystery toys, look to remain popular sellers. (Sales grew 15 percent globally for the first half of last year.) Brands like Hatchimals Colleggtibles, Shopkins Surprise and LOL Surprise play off the generation's obsession with YouTube unboxing videos and their need to collect them all. "It used to be that the biggest toy was the biggest surprise under the Christmas tree, but now it's the smaller toys," Urso says. While these tiny buys may be less expensive, they make more revenue over time, according to Urso. "My daughter will buy a package with a mystery prize and end up with the same pink pony she already has," she says. "So she'll want to buy 10 more to complete her collection." The tiny toys are also a great impulse buy for around the cash register. "When you're at a store picking up paper towels, you don't want to buy big items, so you go to the aisle of little stuff, and that's how stores get their filler money," she adds.
For apparel retailers looking for add-on toy sales, experts say the first step is knowing your customer and which toys work with whatever else they're putting in their basket. "If you have young moms, stock something a mom can pick up quickly to soothe a squalling child," Appell says. "Or be on top of trends in entertainment and gaming, because pop culture really drives sales for older kids." Breyer recommends attending trade shows like Toy Fair in New York to see the latest offerings. "It's good to see the breadth of what's out there and pick up on key trends," she says. Becoming a member of the American Specialty Toy Retailing Association (ASTRA) and attending their show is another invaluable resource, according to Gottlieb. "It's a very user-friendly, retail-run organization," he says. "And their shows cater to the specialty toy market, which helps retailers avoid carrying anything Walmart carries."
Competitive pricing is another key to generating toy sales. The sweet spot varies, but experts agree it's less than $29.99. "Games, dolls, plush, gadgets…there's a lot to find at that price point," Appell says. For smaller toys stocked around the point of purchase, Breyer recommends keeping it around $10 so parents are more likely to grab one. "Impulse buys happen more in store than online, and staying under $10 is key where they buy without hesitating," she says, adding that around the holidays prices can be bumped up as parents are more likely to splurge on special gifts. 
Ultimately, one of the most effective ways to generate toy sales is exclusivity—at least as much as what can't readily be found online. Toy stores are convenient for someone picking up a gift on the way to a child's birthday party, and in-store events like demonstrations and parties can be an added draw. "Retailers have to evolve or they'll be in trouble," Breyer says. Gottlieb advises to think deeper when it comes to planning a toy merchandising strategy. "See yourself as in the businesses of play," he says. "We used to all battle for space on the shelf, now it's about time in a kid's mind. Dollars are a byproduct of time in the mind."