What's Selling: Bringing Up Baby – Boston, MA
A chat with Sandy Sidoti, owner of Beantown's award-winning children's boutique Bringing Up Baby.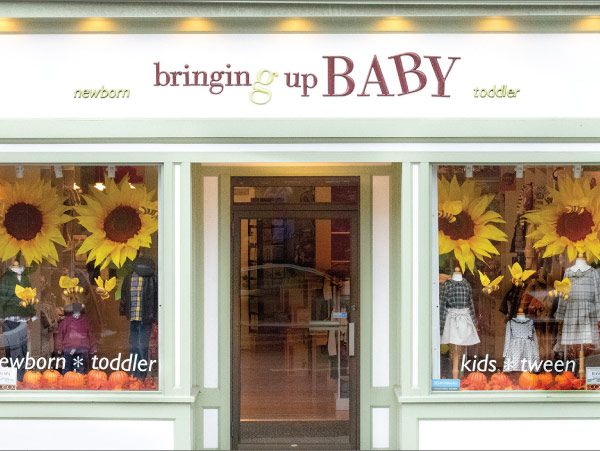 Children know they can't do anything wrong at my store," says Sandy Sidoti, owner of Beantown's award-winning children's boutique Bringing Up Baby. Coming from a background in multi-store management and visual merchandising for luxury brands, Sidoti hones her knowledge of upscale business strategies to elevate her business, all without losing sight of her key client: kids. "Nothing is that precious that it should impact the life of a child," Sidoti says, adding how important it was to create a welcoming space for kids and parents alike from the minute she opened in 2013. "Our goal is to educate parents and make the shopping experience easier for them," she adds.
While parents browse the cheery 1,500-square-foot space of apparel (spanning baby to tween sizes), accessories, toys and gear, kids can enjoy seasonal treats like fresh pumpkin bread and apple cider as they sit at a table of arts and crafts. Sidoti even added a nursing and changing room for utmost convenience. "It's a real community—a Main Street kind of place where moms come in all the time," she says. "We know everybody by name."
The bond between the boutique's staff and its customers is real. Around back-to-school time, Sidoti is flooded with photos from families showing off their kids' first-day outfits. "I got pictures from everywhere," she says. "Even parents who had moved out to the suburbs continue to stay in touch." Sidoti credits the lasting customer relationships to her staff, which includes a really friendly and furry employee. "We have a very important greeter named Abigail," Sidoti says of the Golden Retriever that comes to work with her most days. "Many times customers drop by just to see her," she adds. "She even receives her own Christmas cards!"
At the end of the day, Sidoti can't stress enough how important the "human element" is to Bringing Up Baby's success. "You have to provide an experience," she says. "That's what has helped keep us alive." —Emily Beckman
What have been your best-selling brands of late? Belly Button and Play Up are huge lines for me. The new Miles Baby line from Petit Lem also offers an edgy yet lovely assortment. For the older boys, Joah Love. I also like the Hoonana pull-up pant because it's a happy medium for Mom during that training age. Mayoral is another big hit for boys and girls, and Andy & Evan does a great holiday collection. I also always carry Raspberry Plum for customers who are truly fashion-forward.
What are some leading trends right now? Oh God, that's a constant shift. I typically break my buy into categories based on what works. I buy Preppy Boy, because after all, we're New England. Then conservative or Classic Baby, which is the baby blues and baby pinks. But also there's this huge trend toward Urban Baby. I have an outfit from Belly Button that I call my 'urban grunge' outfit. When I tried to introduce black three years ago, customers weren't having it, but now they're interested. Customers are more likely to spend $100 on an outfit that's a soft pant with a dropped crotch and a funky T-shirt with a bandana bib that looks like the baby is robbing banks instead of spending $250 on a party dress that they'll wear twice.
What's your secret to pleasing the picky tween customer? I broke down and bought some athletic wear. I haven't put it out onto my floor yet, but that's what they're looking for, and you have to give them what they want or they move on. I also tap into the jeans market with brands like 7 For All Mankind, DL1961 and Joe's Jeans. But that's more for the boys. Girls want nothing to do with jeans—only leggings. Maybe you can still get a toddler into a classic jean, but that 4 to 8 range? Forget it!
What's the sweet spot when it comes to price? I consider us to have a gentle price point. My $80 to $100 dress has really gone by the wayside. Either they want it for daywear and it needs to be gently priced, or they're going all out, and they want everybody to know it.
Do you have any buying rules of thumb? You have items and styles that may appeal to your personal tastes. Like, I love the color mustard—well, turns out nobody else does.  You've got to learn from your mistakes. Also, stay nimble, be alert and don't be afraid to let things go because it doesn't do you any good if it just sits on the rack.
What's the most effective way of reaching customers? We're very active on Instagram and Facebook. We are also developing a website, where I want to feature our customers' children in the clothes, not models. We also have an email list, but we don't drive people crazy with it. When we have a sale, we'll announce it to our email base first so they can get in the first week, and then we announce it on social media.
Where do you see Bringing Up Baby in five years? We'll see how we weather the storm of online retailers and their free shipping and same-day delivery. I believe the generation behind millennials will go back to touching and feeling, not just shopping online. In the meantime, we will continue to be all about service and allowing kids to be kids. They're only little once.