The Little Things Matter: Spring '18 Accessories Preview
The accessories market provides big sales opportunities, and here's why.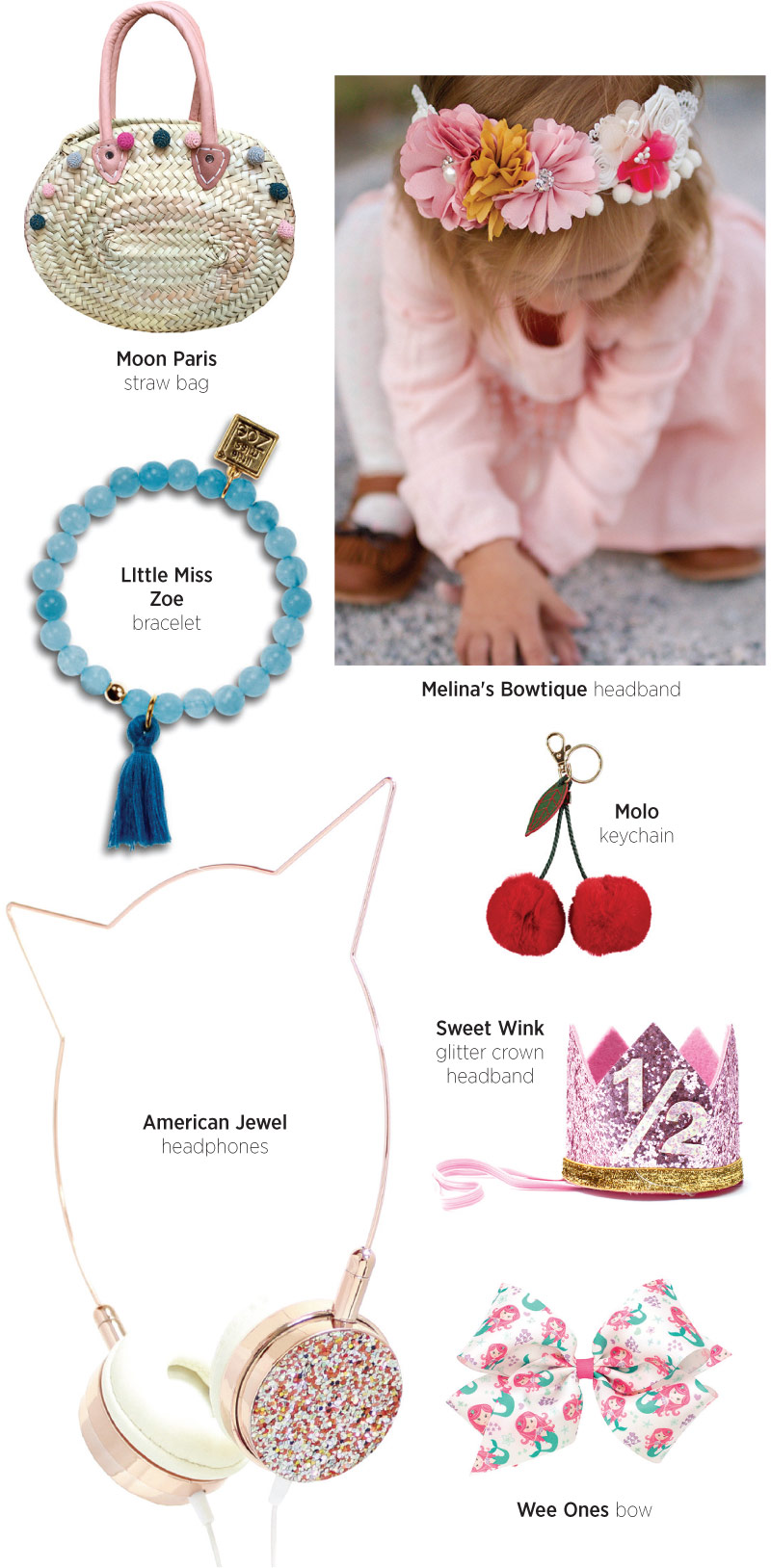 Size matters? Think again. Turns out the smallest products can often be your largest revenue booster. Accessories—a category nestled between both planned and impulse purchases—is the secret weapon for many childrenswear retailers to meeting their sales goals. Primarily driven by price and convenience, accessories lend themselves to a variety of customer needs minus the hassle of waiting for a dressing room or knowing what size the recipient may be. A fun handbag or unique jewelry set has been proven, time and again, as an easy sell, especially when it comes to the picky tween customer.
"Buy them an outfit and within six to nine months, it's out of style, the weather changed, it doesn't fit or they don't even know where it's at," says Sherie Judah, owner at American Jewel. "I tell buyers it's much easier to sell a cute little scented backpack for $34.99 than to try to figure out what shirt matches what pants and hope the customer likes it."                  
Over American Jewel's four years in business, Judah has noticed a definite shift in buyers' behavior when it comes to shopping at trade shows. "It used to be really slow for us the first two days," Judah says, citing how buyers would often first shop for apparel and then match accessories. "Now, I find customers coming to me first to find out what colorway and cute trends I've come out with. It's been a game-changer this year!"   
Judah's husband counts Maggie Tucker, owner of Magpies boutique in Nashville, as one such example. When the shop owner stopped by the American Jewel booth at Children's Club last month looking for eye-catching accessories, he asked her how the American Jewel accessories had been performing. Her reply, "What I sold in December with American Jewel paid my rent for the whole year!"      
Miles Faust, CEO and owner of Wee Ones, cites similar success for his business, reporting a solid 2017 so far. Faust says the brand's flagship business, Wee Ones, is healthy, and its two newest ventures—Sublime Designs, the sublimation-printed sock line, and Wee Ones' Game Day collection featuring officially licensed collegiate accessories—are growing well.
When taking a closer look at what successful accessories brands offer, the basis is fundamentally the same: innovation. "The market is constantly evolving, and it is up to us to innovate and bring newness," says Jennifer Mines, vice president of Iscream. She notes that her brand has honed in on new shapes and materials, like holographic fabric, metallic denim and patent-shaped unicorn bags for Spring '18.   
While the accessories market is healthy and plenty of new companies are entering the mix, Judah warns buyers to be wary of knockoffs. "I see many designers copying other designers' work," she says, believing originality should have merit. "I just don't understand why manufacturers can't take the time to design an original line and be proud of their work; I think that's the saddest part of the industry."

Another challenge facing accessories brands: landing coveted shelf space in an increasingly competitive market. The competition for a place in boutiques, in particular (fewer stores overall and many buyers going narrower and deeper on their mix) has taken the fight for distribution to a whole new level. "The biggest challenge we face is that outside the Southern markets, we're seeing fewer and fewer new stores, and that means we're competing for a smaller piece of the pie," Faust says. His advice to retailers: Remember the brands that brought you to the dance and be consistent in your product offering. "Don't get caught up in chasing the latest and greatest trends all the time," he says, noting that the most successful retailers are diligent about keeping a well-stocked supply of basic grosgrain hair bows in at least three sizes, each available in the same consistent range of colors. "Don't get me wrong, we love our seasonal fashions and retailers sell them well, but the best retailers make the most money on the basics that sell month-in and month-out," Faust says. "The fun seasonal stuff is icing on the cake, but too many retailers seem to overlook the cake."
Another fundamental retailing tip for accessories: cross-selling. "Don't let a customer pick up a dress or outfit without suggesting an accessory," Faust says. "If you can create the total look for them in your store, it's a more compelling presentation—the accessory you suggest will absolutely help sell the outfit."   
Evangelia Pantazis, owner of Melina's Bowtique, affirms that accessories are key to pulling a look together for customers. This can happen through in-store customer interaction, and it's also important to transfer this selling tactic to social media. "We love following our retail partners on social media and seeing how they assemble outfits from head to toe," she says. "Not only do they offer a visualization, but they let their customer know they are a one-stop-shop—an incredible service for today's busy parents."
Retailers are wise to post complete ensembles (including accessories) regularly, while engaging with their audience as often as possible. They should ask for feedback and suggestions on certain looks, not to mention include any sales incentives. "We are a culture of instant gratification," Pantazis says. "So turn that scroll into a double tap and ultimately a sale by posting awesome content and completing outfits with accessories."      
Retailers should also make sure their accessories inventory reflects a range of price points, according to market experts. This provides the customer with options, therefore increasing the chance of a sale. "We believe in carrying different themes in multiple product categories, so if the customer doesn't need one item they can find something else they may want," Iscream's Mines says.
Along those lines, Ellen Fruchtman, director of public relations for Mud Pie, advises buyers to stock up on accessories, buying enough to make a statement. "Merchandize small items, like package toppers and add-on gifts like socks and headbands, near point-of-sale for last-minute impulse purchases," she says, adding, "Position your store as a point of destination for great gifts by offering plenty of grab-and-go items and, of course, offer to gift wrap."   
"Overall, people don't mind spending a little more to get somebody they really like a nice gift," Judah says. She claims that $25 to $50 retail is the current sweet spot for accessory gifts. But she doesn't believe tiny gifts "like keychains and earrings" will be as popular next year. "I'm designing new items that will enable retailers to generate more meaningful sales," Judah says.
Last but not least, experts say not to overlook the special occasion sales opportunity in accessories. Pantazis agrees the demand is strong. Melina's Bowtique started with a small line of crystal headbands and has since added matching sashes for many of its boutique clients. The brand is also now making some of its bestsellers in ivory and white to match special occasion dresses. Likewise, Laurie Schmanski, owner of Cherished Moments, says the brand's sterling silver freshwater pearl bracelets with dainty cross charms are popular baptism gifts. The brand has also noticed an increase in sales of baby rosaries for girls and boys. Overall, delicate, single-charm necklaces and bracelets in silver and gold have proven popular for formal and non-formal occasions of late, she says.