Ever After: New York, NY
A look inside New York boutique Ever After.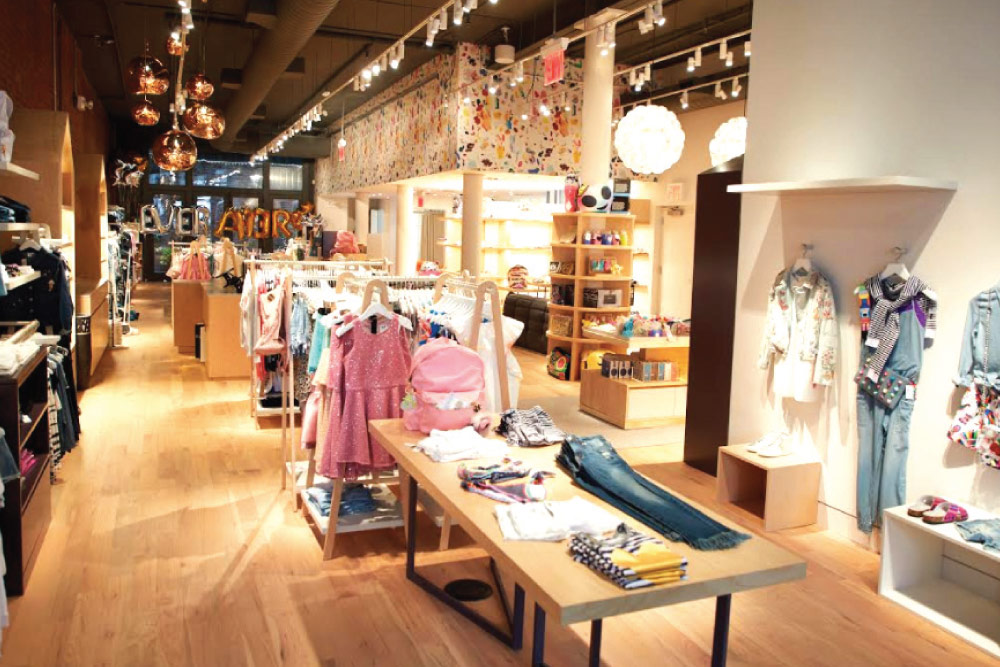 When Haro Keledjian and Sari Sloane Keledjian sold Intermix to Gap Inc. in 2013 for $130 million, it was inevitably the start of a new chapter. At the time, the Keledjians had just moved to TriBeCa when it was exploding with young families. For the next four years, the couple honed in on family life, allowing Sari to take time off and raise their three children. "Everyone was having babies," Sari recalls. "You would always see a ton of strollers on the street." As her children grew up (now ages 4, 7 and 8), Sari realized neighborhood parents, including herself, were struggling to find a one-stop shop for kids who outgrew the local baby boutiques. "I felt there needed to be a children's store with a little bit of everything," Sari says. "Somewhere moms could find anything from playwear and pajamas to weekend outfits and party attire." In April, Sari brought her vision to life in a 3,500-square-foot space on Greenwich Street. The carefully curated boutique targets boys and girls age 4 to 16 years, hosting a wide variety of trend-right apparel and accessories.       
"The shop pleases adults and kids alike," Sari says, mentioning how she brought in some of the same architects who designed Intermix stores to build a playful yet sophisticated environment for her new business endeavour. Beyond the expert lighting and designer furniture, Sari believes it's her "cool and comfortable" dressing rooms that keep families coming to her brick-and-mortar boutique in lieu of hassling with online buys and returns. "The dressing rooms are very large, allowing space for both kids and Mom," Sari explains. "There are also sofas outside, as well as colorful wallpaper, mirrors and lighting—it's all so fun!"
When the weather is nice, Ever After's doors are propped open to entice curious pedestrians. "Of course it's going to be a learning curve since it's the first time we're in the kids' business," Sari confesses. "However, business has been great overall, and I only hope to make it even better."
What sets you apart from the competition?  The visual aesthetic of the store drives energy—we've definitely created an experience. However, I also think it's our customer service that makes us stand out. The staff includes several former Intermix employees, most of them young moms and even some dads, with expertise that makes a collaborative and understanding environment. We are also flexible when it comes to the staff's family life. This keeps everyone engaged and motivated—always happy to be on the floor building relationships with the customers.       
Is there a specific strategy to your buy? Due to my fashion background, I really understand how to buy a trend that will work for a broader base. I evaluate where the buy is more fashionable and where it is more basic. I also to avoid selling out of our most popular items right away. It's important to keep things in stock in order to drive business, especially being that we just opened.    
Have you noticed specific brands or categories performing well? I'm already seeing a huge demand for gifts. We see a lot of birthday presents, so we keep a wide range of clothes and accessories for that reason. Our Urbanears headphones are popular. Chaser and Prefresh T-shirts , Aviator Nation sweatpants and Bari Lynn headbands also perform well.
What's your top priority for this year? To continue to learn about the customer and get to know the market. I know womenswear very well, but the kids' market is new to me. I will strive to have a collaborative relationship with my vendors and offer a creative experience to the customer.
How do you plan on marketing your new boutique? We are just counting on neighborhood traffic for now. Our friends and family have also been promoting it through their kids at school. Not to mention our background helps, already having a following of people who trust our expertise. We are working on an Instagram and Facebook which  will help, and we plan to launch e-commerce in the future.
Do you feel the pull toward e-commerce in the children's market? To be honest, e-commerce for kids has not really developed. It's still segmented. It's still high-price or mono-brands like Gap or Crewcuts. It's hard to find a curated multi-brand experience for children's fashion. Yes, you could go to Amazon or Zappos, but that is not an edited selection. In terms of brick-and-mortar retail, when you're in a neighborhood where families live, your store's bound to grab the attention of families walking by—even if they are usually an e-commerce customer.
How are you dealing with competition in the neighborhood? There's always competition in the industry and that doesn't necessarily mean it's taking away from someone else. I've been on both sides of it—the store with a new opening in the neighborhood and the new store just opening. In my opinion, there's room for everybody. We are excited about being in the kids' market, and we want to add to the industry as opposed to being a competitor. I want people to come in and be excited, and I want the stores around us to be excited to share the neighborhood.