Pretty in Pitti
The international trade show curates an indulgent experience of European fashion.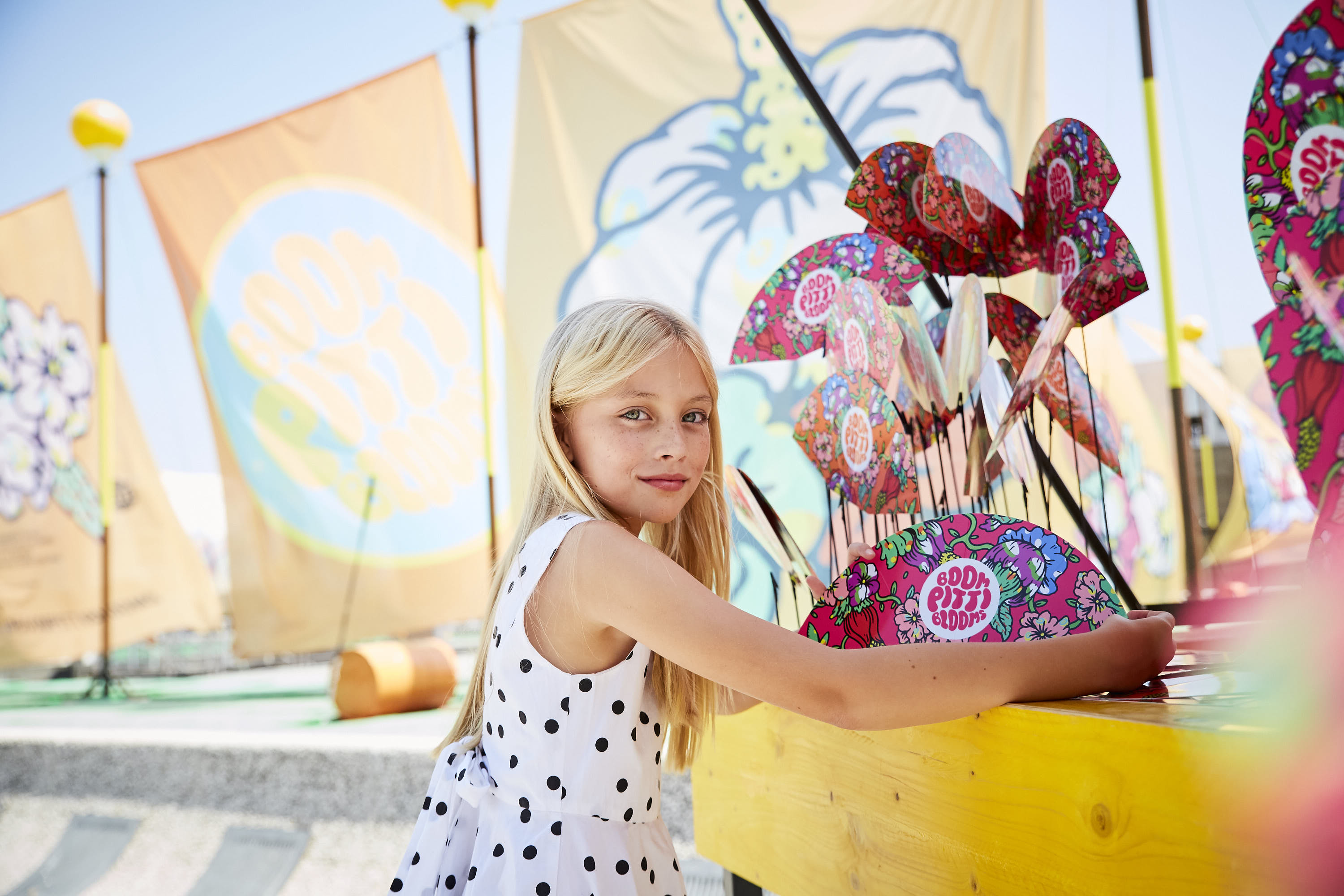 The only thing making buyers melt more than the 90-degree heat at Pitti Bimbo was the show's breathtaking curation of Spring '18 childrenswear. Last weekend, Earnshaw's jetted off to oh-so-bellissimo Firenze for the 85th edition of Pitti Immagine Bimbo. The international trade show, held from June 22 to June 24, was flooded with more than 5,300 buyers, with the total number of visitors reaching around 10,000.
International and Italian children's fashion buyers gathered at the Fortezza da Basso, curious to discover all the latest innovative ideas presented by 548 brands.
The show's floral-inspired theme, dubbed "Boom, Pitti Blooms," was a hit with its attendees and exhibitors alike. Bursting with cheerful flowers, many brands capitalized on the theme with booths spanning retro flower power to elegant English gardens. Not only did the indulgent florals create an enchanting atmosphere, but it was an intentional metaphor for the fair being a fertile ground for new, and often unusual, creative expressions. "We like flowers, but even more the idea that they can flourish," says Raffaello Napoleone, CEO of Pitti Immagine. "They blossom season after season."
One of the most popular installations at the show was by Dolce & Gabbana, imitating a market overflowing with flowers and a spectrum of colorful Spring '18 fashions. Attendees visiting the booth were greeted by two "florists:" cartoon versions of Domenico Dolce and Stefano Gabbana! A spectacle that certainly created buzz on social media (see for yourself at the hashtag #DGCloni).
"There was a decisively positive atmosphere at the Fortezza," Napoleone affirms, noting that he witnessed a succession of business meetings, presentations and events for buyers and press. Napoleone also gave a nod to the special participations, returns and launches hosted at this edition – including Dolce & Gabbana and Roberto Cavalli Junior, as well as the launch of the Emilio Pucci childrenswear line. "There were also many positive comments about the new projects and the sections dedicated to research and lifestyle which, season after season, expand the boundaries of the kids' universe."

As usual, the trade show was broken into several "worlds," making for a playful layout that's easy for attendees to navigate.
And then, of course, everyone watched in awe at the brilliant runway shows throughout the day and evening…
Couldn't hop across the pond this season? No worries—stay tuned for Earnshaw's Spring '18 European trend report to be published in our upcoming August issue.
And, in the meantime, mark your calendar for the next edition of Pitti Immagine from Jan. 18 to 20. Hope to see you there!