Forever Young
Earnshaw's celebrates 100 years with a little help from our (smallest) friends.
At Earnshaw's we've discovered the fountain of youth. For 100 years our magazine has celebrated the wonder, energy, and innocence of children. From the Roaring Twenties to the Swinging Seventies to now, we've had a fantastic time chronicling the items little ones can't live without, with so much more to come. The styles may have changed along the way, but kids are kids no matter the decade. And to mark our milestone, we could think of no better tribute than to feature on this month's cover 100 delightful babies who are just starting their own fantastic journeys. A big congrats and thank you to the adorable tots, the winners of our #100years100babies Instagram contest. Many of the babies (and their intrepid parents!) traveled to New York City from as far as Los Angeles and Alabama to help us celebrate with a fun day of fashion, pampering and pictures.  Behold, our cover stars…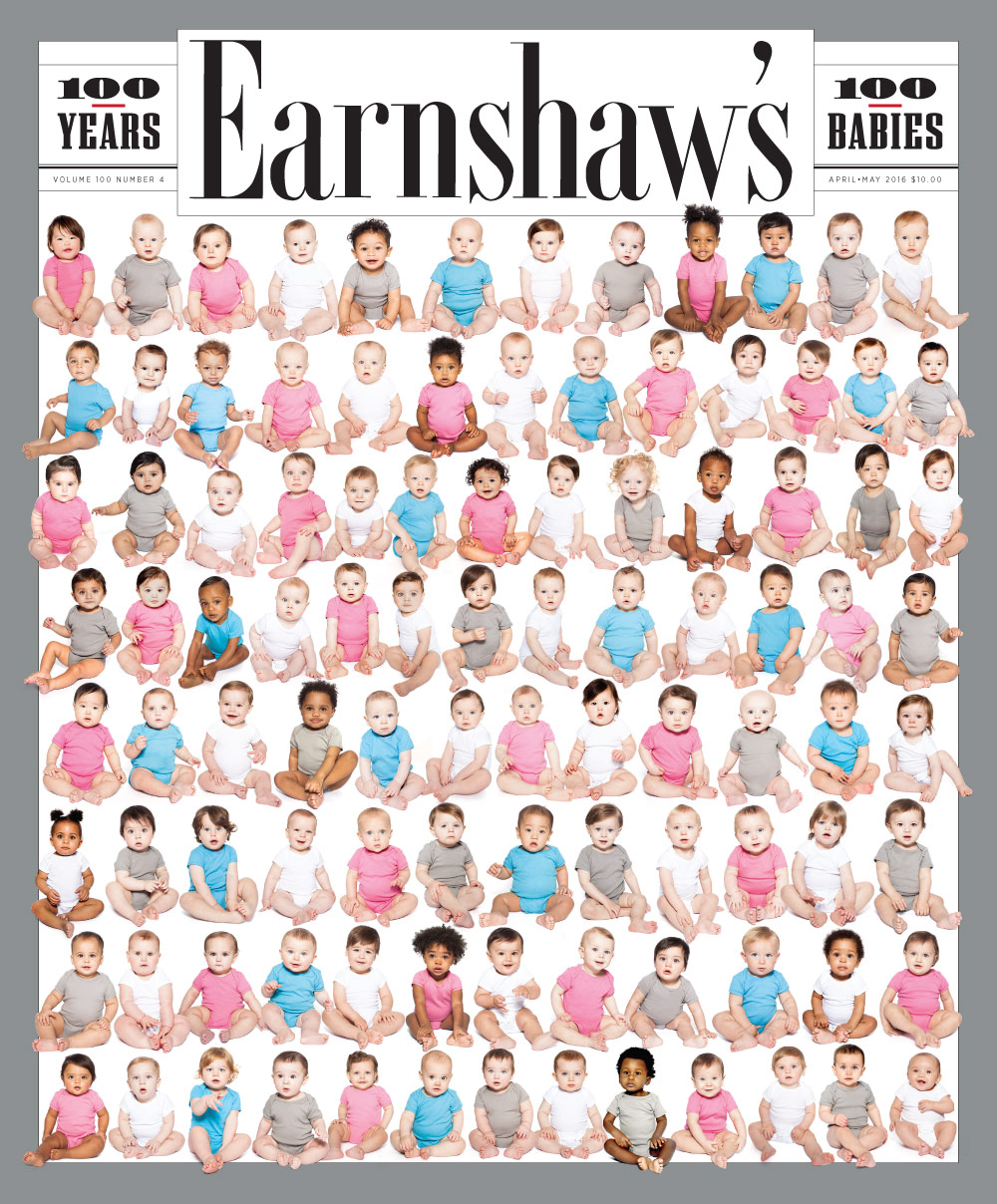 Meet Our Mini Models
(row 1, from left) Parker's first word was tickle. Miles is a guitar virtuoso. Grace was born with lots of hair. Cameron smiles when he wakes up. Jay goes bananas for bananas. Max enjoys singing. Amelia loves Brussels sprouts. Abel is named after Jax Teller's son, Abel, on Sons of Anarchy. Marley is an '80s dancing queen. Lucas gets a kick out of FaceTime. Walter is already walking with a walker. Elliot can often be found belting out tunes.
(row 2,  from left) Liam hip-hop dances like a boss. Bailey can't get enough of Stevie Wonder.  Kayan is a talented percussionist. Ruby is one spicy pepper. Eleanora's a staring contest champ. Kai's a baby fashionista. Paul performs with his toy piano. Theodore is curious about everything. Alexandria's a social butterfly. Nico gets a thrill from shouting matches with her sibling. Lyla can say her name. Michael thinks he's the next Cristiano Ronaldo. Ennio will pay extra for guac.
(row 3, from left) Liv loves to drink bath water. Julius favors the Elmo Shuffle. Ariana enjoys holding hands with her twin. Aubree loves to dance. Grayson believes life is all about him. Cameron turned one at the photo shoot. Dorothy's parents call her DottyRu. Charlotte is the original Princess Charlotte. Theo's an expert at clapping and waving. Kaiza loves peek-a-boo. Josette's bestie is a black cat named Leonard. Luca likes to show off his muscles. Daisy is an Irish triplet.
(row 4, from left) Milla's signature move is flipping backwards. Mia's best buddy is her stuffed animal Violet.  Anthony loves to clown around.  Oona has cheeks for weeks. Isabella prefers her tongue outside her mouth. Xavier has six-and-a-half teeth so far. Fallon gets down to Justin Bieber.  Max fancies cats. Jude likes to boogie on the reg. Mila prefers her chewing toys in her parents' mouths. Maximus gained one pound per week for eight weeks. Charlie's go-to indulgence is a Japanese sweet potato. Ruby maintains her own blog rubysfirstyear.tumblr.com.
(row 5, from left) Valentine's parents were married on Feb. 14. Rocco finds his happy place with music. Robert's smile brightens dreary days. Brooke appreciates a good avocado.  Joel is half South African.  Shay adores being a little sister. Audrey helps Mommy manage her clothing store. Wren plays duets with Dad on her ukulele. Faire finds peace in Kelsea Ballerini songs. Maxwell's partner in crime is his big sis.  Temujin's favorite language is Mongolian. Lola models for Momi Boutique.
(row 6, from left) Aubrey loves to eat Chinese food. Matilda doles out kisses. Vince is already a bookworm. Conan takes after Popeye with his love for spinach. Anastasia can't tell her dad from his twin. Mackenzie's vocabulary contains 15 words already.  Mason's ideal snack is paper. Jack's grandma is Nancy Markert of Nancy Markert & Associates.  Holden loves trucks and buses.  Hadley's favorite song is Cruella De Vil. Aubrie is a ham. Khaleesi is never afraid to say "hi."
(row 7, from left) Sienna enjoys smiling at her big brother. Penelope is a Cali girl sweetheart. Amelia loves feeling cold breezes on her face. Hudson is the world's biggest flirt. Robert understands Spanish but he's only saying words in English. Royal smiles for song. Milan's name means "coming together" in Hindi. Katia likes to bop to the beat. Priyana's BFF is a bullmastiff named Buddy. Leo thinks that coughing is funny. Kamel puts himself to sleep by getting into the downward dog position. Olivia looks up to her big brother.
(row 8, from left) Londyn can bust a move like no other. Jake shares the same birthday as his big sister. Ryker likes to show off his abs. Benjamin giggles every time he sees a cat. Camila loves posing for the camera. Jack loves to bust a move. Kingston finds inedible items most appetizing. Joya can replicate a rhythm perfectly. Liam loves to lift and throw things. Heidi crawls with closed fists. Milo's favorite time is mealtime. Beatrice has a pet bunny named Poof. Prynceton loves to snack and smile.