Magic Act
You don't have to be Houdini to create an enchanting customer experience, but a little beguilement doesn't hurt.
A few weeks ago, I stopped by a …
You don't have to be Houdini to create an enchanting customer experience, but a little beguilement doesn't hurt.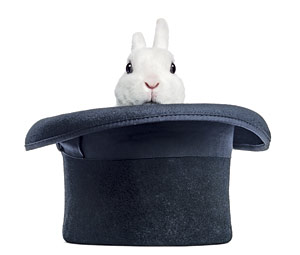 A few weeks ago, I stopped by a local burger spot for dinner. The scowling employee behind the counter was, to put it politely, not happy to be there. In protest, he blasted X-rated tunes from his iPod, even though kids were in the shop. When my husband told him the ice machine was jammed, he shrugged and replied: "It will melt." We took our food to go and vowed never to return.
In the end, the burgers were actually quite tasty. What could have become our go-to neighborhood greasy spoon is instead fodder for warnings to our neighborhood friends: Whatever you do, don't go there! And all it took was one disgruntled employee. Who knows how many customers he chased away that day, or week, or month?
In the pages of Earnshaw's, we always look for ways to help retailers succeed. We scour studies on the mindset of millennials, extol the merits of good social media strategy and interview experts on everything from clever merchandising techniques to next season's top trends. Yet all of the advice always circles back to one crucial point: You can have the best products on the block, a killer Facebook presence and a beautifully designed store—but none of it matters without stellar customer service.
Yet we all know that maintaining a sunny disposition around the clock can be a Herculean task, especially when contending with everything from late shipments to staffing conundrums to wild weather patterns that derail monthly sales. (As for this year, the bad news is that forecasters predict winter will be just as cold and snowy as the last. The good news? It won't drag into April and May this time.) It's not always easy for us, either. While I would love to tell you that producing every issue of Earnshaw's is a seamless, stress-free endeavor, I have a feeling you wouldn't believe me anyway.
No matter the industry, hiccups arise. Part of being a savvy business owner is reminding clients to pay no attention to the man behind the curtain. You may be frantically checking e-mails, answering phones and packing boxes behind the scenes, but you've succeeded if a customer leaves your store feeling like they had a magical experience—without knowing just how much elbow grease went into making that magic happen.
Take New York Fashion Week, which just wrapped up last month, for example. Thanks to the occasional behind-the-scenes peek, we know the backstage area can be a chaotic mix of models, stylists, seamstresses and makeup artists all scrambling at the last minute to craft a flawless presentation. And yet, for hundreds of designers, all we see are inspiringly theatrical runway shows filled with dream-worthy clothes. Even street-style stars have stepped up their game in recent years, with impeccably crafted looks. I'm sure their rooms at home are scattered with optional garments and accessories discarded at the last minute, but we will never know. All we see is their perfect look, playful Prada bag and knowing smile.
Of course, those street-style stars have it a bit easier. After all, they're running a business of one. Retailers, on the other hand, rely on a small army of employees and suppliers. And as in the case of that unhappy burger employee, one bad apple can tarnish the luster on even the most glowing enterprise. That's why David McCubbin, the subject of this month's Q&A on p. 16, may be on to something: The president of McCubbin Hosiery, David credits his team, which he describes "second to none," for the company's success. Similarly, I'm very fortunate to have a staff here at Earnshaw's—from our hard-working editors to our endlessly imaginative designers and our savvy sales team—that makes the magic happen every month.
Just pay no attention to that man behind the curtain.